A love of country life and a dream of owning a rural property producing Dorper lambs is what led us to Glenace in 2011; a 9,000 acre grazing property nestled in the distinctive rangelands of Western NSW.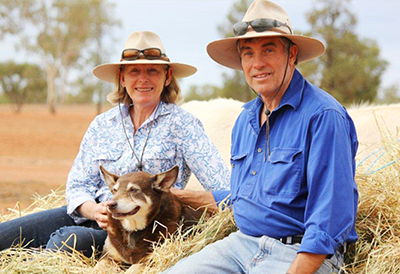 With our first visit to Glenace, we were somewhat captivated by her old world country charm and natural beauty. Visualise a 1940's Australian homestead with wide open verandahs set amongst gently rolling hills growing a variety of established grasses. Large shady Kurrajongs with clusters of bell-shaped flowers. Wild Orange trees blooming and buzzing with native bees, happily collecting pollen from the delicate flowers and weathered Wilga's with their sprawling canopies dotting the open landscape, providing shelter for the resting stock and wildlife.

The clear blue sky was the perfect backdrop for a flock of Major Mitchell's flying overhead, loudly proclaiming their presence, whilst enjoying the warmth of the sun on their backs as they headed towards the house dam, for their evening drink. What we had found was a rustic gem in the outback; a gem that needed work and commitment, but one that fills us with a sense of serenity, excitement, emotion and deep thoughts of her potential.

We have always held a great deal of respect for animals and the environment in which we all live. We love sharing our knowledge and experience with whoever will listen; especially our grandchildren. The health of our animals and the environment is crucial for our business to continue to move forward, and in doing so, making our vision for Glenace a reality.

Over the past six years, we have committed to installing 63kms of water spreading banks in our developed country to improve water absorption into our soils, reduce erosion and create the right conditions for regeneration. Through this investment, we are now seeing further progress each year with perennial plant species establishing themselves in other areas through improved soil health.

Looking back over the years we feel very fortunate to be living a country life on Glenace; a life of fresh air, freedom, happiness and appreciation. Glenace supports the wellbeing of not only ourselves, our family and our animals, but others in so many ways; our conscious consumers through their purchase of Nourish & Grow – Natural Lamb. Our small rural community with our choice to purchase locally and our commitment to support organisations where we have an interest, such as our local Buckwaroon Landcare Group, the Canbelego Rural Fire Service and ROAR our local animal welfare group.