Nourish & Grow – Natural Lamb is bred for meat, exceptional taste and a memorable moment. Our Dorper ewes have been joined with Tattykeel Australian White Rams. This has produced a quality prime lamb. These breeds require low maintenance and have a proven ability to thrive in our Western NSW area.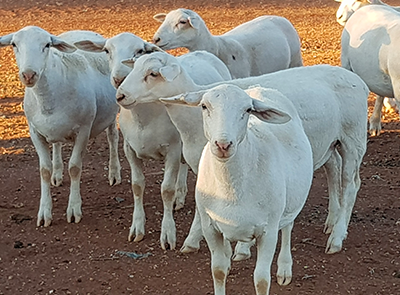 Our sheep and cattle forage on all palatable plant species, gaining nutrition and essential minerals, and leaving a more even graze over the paddock for regeneration. Newborn lambs are strong with a calm temperament. They start to nibble on plants in the first few days after birth and are nourished from their mother's rich and abundant milk supply, aiding their survival and vigorous growth until naturally weaned. All our animals are handled using low-stress stock handling techniques.

Why we created Nourish & Grow
Being the owners, producers and carers of our animals, means every one of them is special, which always made it difficult when the time came to sell them. Using commercial transport to freight our lambs 350km to the sale yards made us think, there has to be a kinder, less stressful way of doing this; for our animals, ourselves and our conscious consumers.

We knew we had a great product; a product that's natural, hormone-free and has flavours of the outback. But we were becoming frustrated, with the time and care we put into rearing our lambs, that it wasn't being reflected in the sale yard prices.

When an animal is stressed, glucose in the muscle is used up quickly having serious adverse effects on meat quality. In healthy and calm animals, a higher percentage of glucose is retained in the muscle, before and after slaughter helping to produce meat, which is tasty and tender, has good keeping quality and appealing in colour.

Nourish & Grow was established in April 2017, due to our determination to extend the care of our animals beyond the farm gate so our story could be told and our products enjoyed. Our paddock to plate business has given us greater control over the welfare of our animals, their transport, pricing, product options and marketing. We now load and transport our lambs, driving them to the Nyngan Abattoir, as close to their slaughtering time as possible. They travel 105km, as a live animal, with people and a vehicle they are familiar with.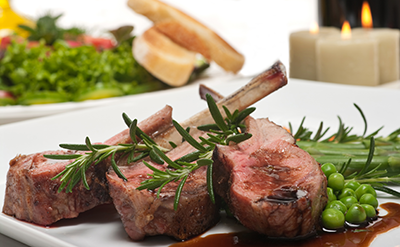 We sell a full or half fresh lamb carcase on a per kg basis. Your lamb choices will provide you with a variety of healthy meal solutions and help take the stress out of your everyday meal planning.

You can now place an order any time here. We ask that you familiarise yourself with our FAQ's here before ordering and check the terms and conditions page here. Please contact us with any further questions.

You will notice when cooking with Nourish & Grow - Natural Lamb the cooked meat has a little sweetness and a wonderful depth of flavour. This is especially noticeable when cooking a long slow melt-in-the-mouth roast leg, which falls off the bone when carved, allowing the natural juices to flow over the slices. The outer layering of fat covering the leg becomes crisp, sweet and caramelised due to the glucose retained in the muscle before slaughter. The perfect lamb gravy is made by slowly reducing the braising pan juices to create a sauce with intense flavour to drizzle over your roast lamb, making for a very memorable moment.

It's exciting when we connect with people who believe in and appreciate what we're doing; who are grateful for our lamb, the story behind it, and the health benefits and savings it can provide, not only to themselves but those they choose to share it with.

With Nourish & Grow - Natural Lamb you gain so much more than your natural lamb pack. Stress-free meal planning, minimal waste, food your body will love and the savings in place of impulse buying. It's an experience you'll want to share.

We love our lamb and we hope you will too. Read how much others have loved our lamb here.
Thank you Ann and John, I have just cooked one of your delicious legs of lamb, using the cooking method that you recommend. I rubbed the lamb in a sea salt and rosemary rub placed in slow cooker with 1-1/2 cups of water, and cooked on low for 6 hours. The meat was so succulent, flavoursome and tender.

The best I have ever eaten, and my family thought so too. I will never cook lamb any other way from now on. Thankyou for your delicious product.
- Marion, Carinda